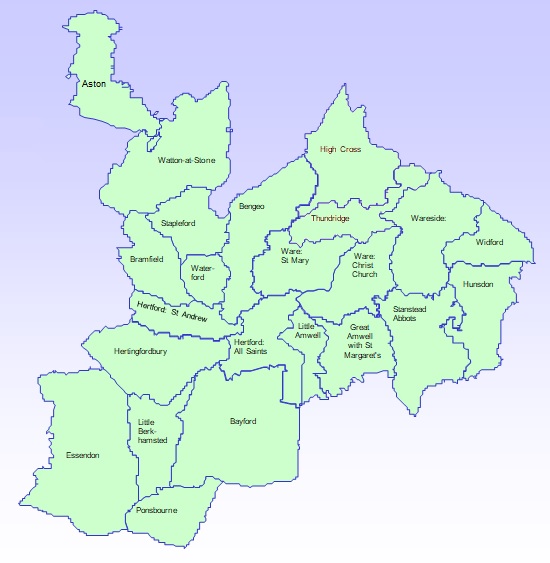 The Deanery
A Deanery is a collection of adjacent parishes in geographical area whose clergy and laity together have the responsibility for the mission of the church in that area.  Hertford and Ware Deanery stretches from Hunsdon and Widford in the east to Essendon in the west, Little Amwell (Hertford Heath) in the South to Aston in the North and, as the name suggests, includes the towns of Hertford and Ware.
The Deanery Synod
The Deanery Synod is the church governance equivalent of a district council.  It comprises the clergy and elected lay members from the parishes.
The Deanery Chapter
Chapter is the unlikely collective noun for clergy.  The clergy in the deanery meet for prayer, study and fellowship.  Revd Mark Dunstan, Rector of this benefice, is currently Assistant Rural Dean and clerk for the chapter.
Blog
Please see the Deanery Blog for our Deanery Mission Action Plan.
See also these links:     Deanery Parishes     Deanery Confirmations     Deanery Dates     Deanery Blog