About Us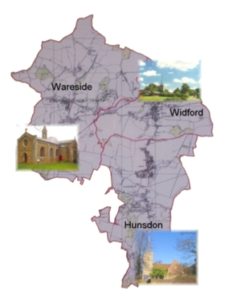 We're three Church of England parish churches in small villages in east Hertfordshire, and our aim is to Know Christ and Make Him Known.  There's more about what we believe here, and detail on our mission here.
The Church of England attempts to provide pastoral care for the souls of all the people of the country by assigning a pastor (usually known as a priest) to a small geographical areas called parishes.  In recent years, some small parishes have been combined with others under the care of one priest.  Our Rector is the Revd Mark Dunstan, here.
Our three parishes have been united in this way (called a United Benefice) since 1980. Nonetheless, each parish church remains an individual community – the family of God in its own place, seeking to serve its own local village community.  Within each church are people with key responsibilities.  You can find out about them here.
How to find us:
Hunsdon Church
Widford Church
Wareside Church
St Francis Chapel / Rectory