Parish Registers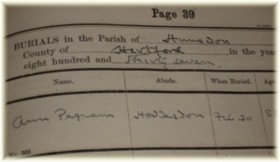 For years, church registers were the only historical records of certain events, and even now they provide a unique account; they are rich with history.  A well known pop-singer appears in the baptism register of Hunsdon church as a godparent, and there are suggestions that Mary Tudor was once a godparent for a child baptised there too.  Research conducted around 2007 into Hertfordshire's past associations with the transatlantic slave trade unearthed some revelations about the village of Hunsdon.  Accordingly, we know that "in 1711, Africk Hunsdon, a native of Africa, servant to Matthew Blucke of Hunsdon House was baptised at St Dunstan's Church.  Africk married a local girl, Dorothy Jordan, and they had a son, also called Africk.  By 1727, Africk Hunsdon was running a local inn."  (Quotation from "Enjoy! Hidden Histories in Hertfordshire.")  The Jordan family name is still in Hunsdon.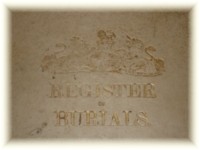 The Hunsdon village website has a database on which you can search for entries in the Hunsdon registers between 1546 and 1837.  You can access this database by clicking here.   There is also an interactive map of the churchyard.  Widford Church was the place where John Eliot, "Apostle to the Indians" was baptised in 1604.  You can find more information on the Friends of Widford Church website.
The churches do not keep registers once they are complete.  This means that if you want to interrogate the registers, you may be better making your enquiry direct to the County Records Office in Hertford.  Currently the earliest records the churches hold are as follows:
| Church | Baptisms | Marriages | Burials |
| --- | --- | --- | --- |
| Hunsdon | 1932 | 2011 | 1891 |
| Widford | 1979 | 2005 | 2005 |
| Wareside | 1920 | 2012 | 1908 |
Please note, the church may charge a statutory fee for searches in parish registers in respect of the time it takes.  If you would like a certified copy of an entry, this can be provided, but there is also a small statutory charge for this service.  Information about fees is available on the Church of England website.